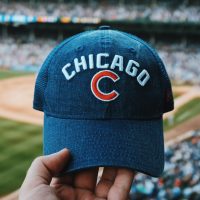 Green Ivy Realty – How We Got Our Name
You may be very familiar with Green Ivy Realty and Property Management, however do you know where the name "Green Ivy" comes from? Russell Rantz, Owner and Managing Broker of Green Ivy, was all set to launch his business back in 2007, but was missing a very important detail- the company name. He spent several weeks contemplating various ideas, when one day it all clicked!
Growing up in the suburbs of Chicago, Rantz had many fond memories of driving up to the city to go to baseball games with friends and family. As he got older, his love for the game grew and so did his fondness of the Chicago Cubs. While attending college in Arizona, Rantz enjoyed keeping tabs on the spring training games, as they took place in the next town over. Additionally, coinciding with his birthday in March, Rantz and his buddies made it an annual tradition to go to at least one spring training game to check out the talent and get stoked for the season ahead- a tradition that continues to this day.
In the Summer of 2003, Russell moved back to Chicago to a condo in Wrigleyville and immediately put his name on the waiting list for season Cubs tickets. Rantz was shocked when he received tickets after only two years on the waiting list, when he originally figured it would take about ten! Holding the tickets for six years and living near the stadium, Rantz attended about 20-30 games a year. He was a reliable, hardcore fan and would be in his seats on opening day, regardless of the weather. He'd be there, winter coat, gloves and all, enjoying every moment.
Rantz has had countless memories at Wrigley Field, but one of his favorites was the Cubs Season Ticket Holder Appreciation Day. One of the perks of holding season tickets was having a day with free reign at Wrigley Field. Rantz, with a friend and client, was able to run the bases, tour the press box and take pictures throughout the historic field. One of his favorite photos is of him leaning up against the green ivy wall, almost as if getting sucked in.
About a year after being a ticket holder, Rantz was sitting at his desk working for his previous employer, while spring training was in full swing. He was thinking about the upcoming baseball season, when the Chicago Cubs green ivy wall popped into his head. He knew right then and there he had come up with the name for his Realty and Property Management company.
Although Rantz no longer has season tickets, his love of the Chicago Cubs continues. Each year, he tries to take his team to a game to merge his two passions, his company and the Cubs. Over the years Rantz has found many connections between the two, but one remains consistent. The green ivy wall represents the company's rental season. Just as the green ivy in April is bare, the company is getting ready for the season ahead. Then in June, when the ivy wall is in full bloom,  Green Ivy Realty is at it's busiest and in the thick of the action! 
Photo by Blake Guidry on Unsplash